The holiday resort of Pattaya is one of the oldest seaside resorts in Thailand. It lies on the eastern west coast of Thailand, only about 130 kilometers south-east of Bangkok. Pattaya is well known for its lively nightlife and it's many tourist attractions near by.
⇒ Hier geht's zur deutschen Version (German Version)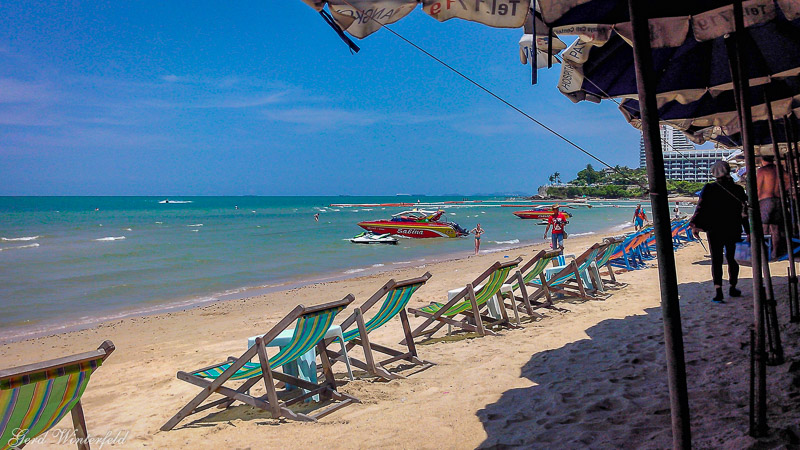 Getting There
Getting to Pattaya is very easy. You just need a cheap flight to Bangkok from anywhere in the world and from there you may take a taxi or a bus to Pattaya. Pattaya is located about 130 km south from Suwarnabhumi International Airport in Bangkok. Busses depart approximately every two hours and take there guests straight to the desired hotel in Pattaya for about 250 baht. The taxi fare for the distance is about 2000 Baht, negotiable..
The Bangkok Airport - Pattaya Bus
The most convenient, fastest and cheapest way to get from Bangkok (Suwarnabhumi) Airport to Pattaya is the Bangkok Airport Pattaya Bus. There are two bus companies that travel this tour: the Airport Pattaya Bus and the Bell Travel Service.
The default Bangkok Airport Pattaya Bus (line 389) costs just 134 Baht per person for the one way trip (according to website). The counter is located at Bangkok Suwarnabhumi Airport at Level 1, Gate 8. Buses run from 7:00 am to 10:00 pm, every full hour.
The travel time from Bangkok Airport to Central Pattaya is about 1.5 - 2 hours, depending on traffic.
Hotel & Accommodation in Pattaya
Due to a massive oversupply of hotel rooms, hotel and tour-package deals are always very low priced, compared to other tourist destinations in Thailand, such as Koh Samui, Phuket, Khao Lak or Krabi.
Recommended Hotels in Pattaya
---
Hotel Bookings Pattaya:
Pattaya Central | South Pattaya | North Pattaya | Jomtien Beach | Hotel Bangkok
---
Pattaya Airport
Pattaya does not have an airport itself. But there is the Rayong Pattaya U-Tapao international Airport, which is actually a military airport and is often called "Pattaya Airport". It is located about 30 kilometers south of Pattaya and you can go from there in about 45 minutes by minibus or taxi to Pattaya. However, by September 2017 there are only a few airlines that fly to and from this airport.
Bangkok Airways has daily flights between Utapao and Koh Samui (2), Phuket (1) and Trat (1).
Air Asia flies from U-Tapao to and from Chiang Mai, Udon Thani, Phuket and Hat Yai.
There are also at least three international connections to Nanchang (Air Asia) Macao (Air Asia) and Sanya (Hainan Airways).
Since October 2017, Nok Air flies from Pattaya to six different cities in China.
SInce January 28th, 2018, Qatar Airways now flies to Pattaya Airport from Doha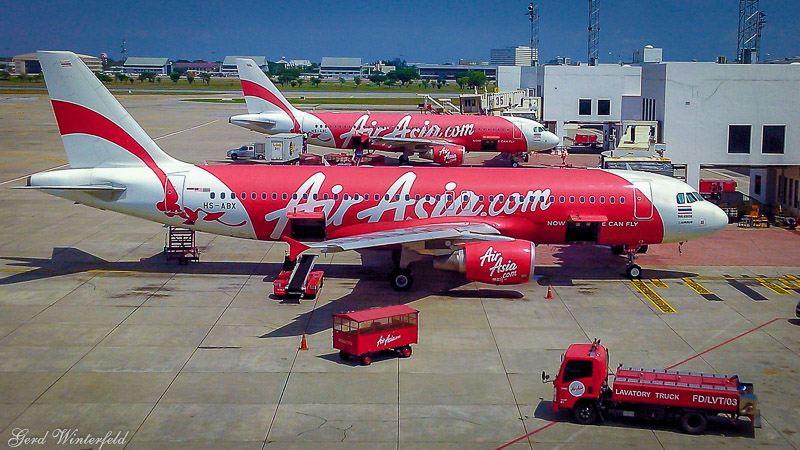 Otherwise, there are no civilian flights to and from the Pattaya Airport. There are also no flights between Bangkok and Pattaya Airport. For a holiday in Pattaya you could use Bangkok as your final destination for the flight and travel by bus or taxi to Pattaya. The other option now is Qatar Airways, which connects Europe and other parts of the world via Doha to Pattaya.
---
Visa for Thailand - Thai Visa
For a stay of up to 30 days, citizens from most western countries, can enter Thailand without a visa. You will get a permission of stay for 30 days at the immigration check point at the airport. Those who want to stay longer need either a tourist visa with 60 days per entry (TR Visa up to 6 month with multiple entry) or a Non-Immigrant Visa (over 50 years of age) with a permission to stay for 90 days per entry. The latter can be extended to a 1-year stay under certain circumstances.
---
Cheap Flights to Thailand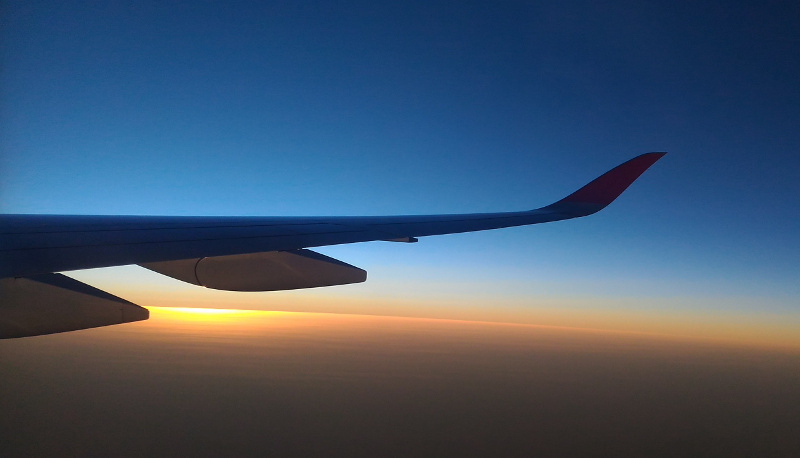 Since the international airport in Bangkok is an international hub for Southeast Asia, there are plenty of cheap flights to Bangkok available, especially during the "low season". The deals start in some cases at 399, - Euro but the average price for a flight to Bangkok from Europe is from about 600, - Euro upwards. Airlines, which often offer cheap deals on flights to Bangkok are: Etihad Airways, Qatar Airways, Emirates, Gulf Air and Saudi Arabian Airlines. Flights to Thailand from other places in Asia are of course cheaper and you can also use one of the budget carriers for this shorter distances.
Note that from January 28th, 2018, Qatar Airways will fly directly from Doha to the Pattaya Airport (Utapao AIrport) and thus, connects Pattaya to most countries in Europe via an one stop flight. Other direct flights by Qatar Airways to other smaller airports in Thailand such as Phuket, Chiang Mai and Krabi have shown that the tickets for those flights are very affordable.
---
Pattaya Weather & Best Time To Travel
The best time to visit Pattaya is from November to mid-April. This is also the official high season in Thailand. The temperatures vary throughout the year during the day around 30 ° C + / - 3 ° C.
At night it cools down to about 26 °. If it should rain in the evening time, temperatures may drop to 22 or 23 ° C. The best weather in Pattaya you will have from about December to March (dry) and the most rainfall in the months of May, September and October. The rest of the time, during the european summer is quite mixed and there is a bit of everything.
---
Pattaya Beaches
The range of beaches in Pattaya, is limited mainly to the Pattaya Beach and Jomtien Beach. Both however, are for sure not the most beautiful beaches Thailand has to offer. Rather, they are fairly built over backwards and covered with boats, jet skis and other water vehicles. However, at least the Jomtien Beach can still be recommended for swimming and sunbathing.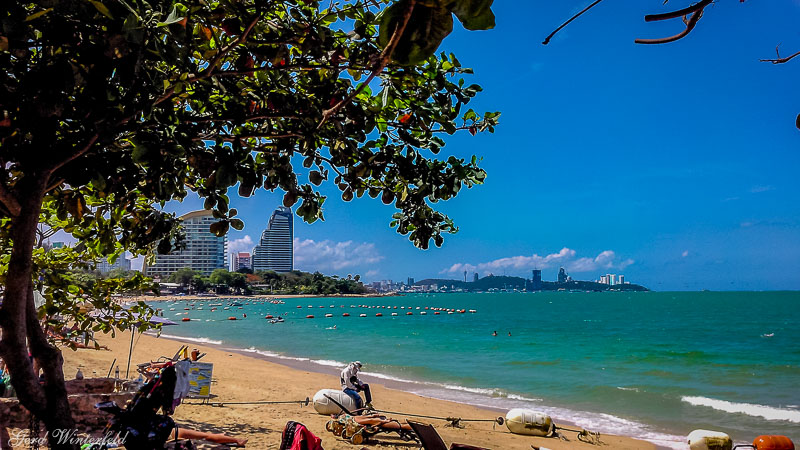 To find true tropical beaches with white sand and crystal clear water, you have to visit the small islands offshore or at least the other beaches located north and south of Pattaya and Jomtien Beach. Day trips to the small islands are offered anywhere in the many booking offices in Pattaya.
Pattaya Tours & Attractions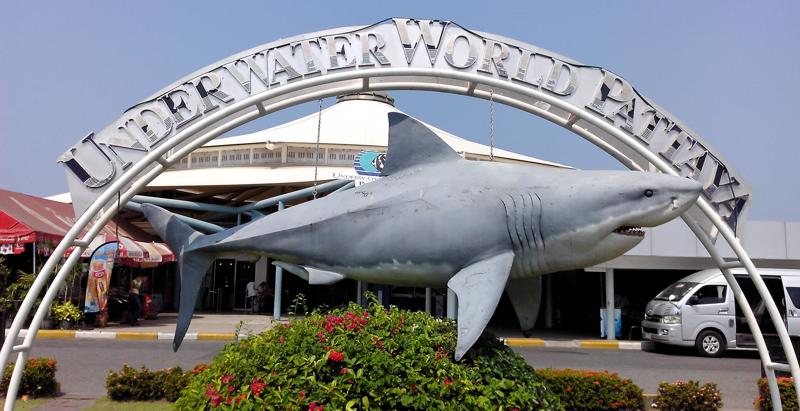 The range of tourist attractions in and around Pattaya is almost unlimited and there is really nothing that is not there. If you love the water, you may want to book and try a trip to the small offshore islands, a fishing tour, SCUBA Diving, snorkeling, glass bottom boat and many more. On land the major attractions are Mini Siam, the Pattaya Park (water park), temple visits, Big Buddha, Butterfly Garden, Elephant Village and more. A two weeks vacation is hardly enough to see them all.
Rent a Scooter or Motorbike
It's a great way to discover Pattaya and it's attractions on you own by a scooter or motorbike. Scooters are for rent everywhere in Pattaya and you can get them for as low as 150 Baht per day. However, traffic is dangerous along the busy main roads of Pattaya. Always drive carefully and defensive and take no risk. Note that there is no insurance for rented motorcycles in Thailand. In case of a crash, as a Farrang you almost always have to pay the bill.
You should only rent and ride a motorcycle in Thailand if you already know how do ride! Do not use Thailand's roads as a driving school. Always wear a helmet even if it is hot in Thailand.